Since I know all of you can't stand to not have an Andrew fix (haha), here's a few funny/sweet things Andrew did today. He was playing in the kitchen today (quietly, which I know I should have taken for a bad sign). When I decided that maybe he was being a little TOO still and quiet, I went in to see him playing with the butter from the table. We had French toast for breakfast and forgot to put the butter away. The butter now has tiny little holes all in it (courtesy of Andrew's little fingers). His hair also looked like it had gel in it. No, rest assured. It was butter. Sheesh.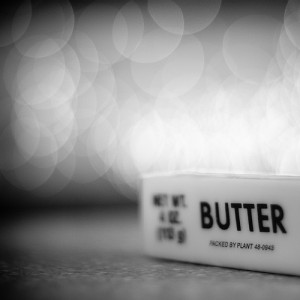 Today was General Conference for our church. (Twice a year we get to hear from the prophet and apostles of our church. It's an amazing spiritual experience.) When the prophet came up to speak, Andrew stood right in front of the screen, smiling. He must have really liked his smile and voice because he really hasn't ever seen him before. I told him it was the prophet and he looked at the screen smiling and saying, "Poppet." He watched the whole talk, and then did amazingly well during the rest of the session (2 hours). He probably just sat and watched at least half of it. We were amazed. He loved the music and alternated between leading the music and dancing to the music. What a sweetheart.
Andrew really loves books. As in, a whole stinking lot. His favorites are currently Cookie Monster's Book of Cookie Shapes, any of the Olivia books, and The Day Jimmy's Boa Ate the Wash. He calls that one "Wash" and we read it at least 4 times a day. Tonight we were reading it before bed and had two of his stuffed animals propped up on his lap so they could see the book, too. He kept adjusting them on his lap so they could see. Then he was pointing out the pictures using his little hippo's foot. It was absolutely adorable.
I can't tell you how much we love our little guy. He is the sweetest little guy, and he makes us laugh all day. We can't wait for our little girl to come this summer. Having one is such a blessing, we can't even imagine how amazing it's going to be to have her around also. Yay for families!!!